August 2023
In response to fierce competition in the productivity software market and a challenging business model, we've halted product development and shifted to a free model. We're exploring new revenue streams, including:
• Sponsorship
• Publications of paid articles and links
• Donations
• Co-branding
• Advertising

Your thoughts and ideas are welcome at wj@weje.io. We're also considering making Weje an open-source project.
Enjoy Weje for free, and if you have an active subscription, please consider keeping it to help cover hosting expenses. Extend Weje's life by donating $19 for hosting, or choose other donation options:

Interested in becoming a Weje VIP sponsor, co-branding, or advertising? Let's discuss at wj@weje.io.
Thank you for your support!


Weje 3.0 Dream Team release
November 2022
Here's a sneak peek of what's to come in the upcoming Weje 3.0 Dream Team release.
* A team-centered approach: focusing on collaboration will let you stay on track with every project.
* Global changes to the interface. No more dashboard. Meet the new team workspace with tags and folders.
* With new frames, you can now provide team members access to view and edit only selected areas of your board.
* New simple and fast approach to create and interact with nested objects.
* New tools: Voice chats. Touch base on projects and discuss ideas live.
* New objects: voice cards, checklist cards.
* Dark mode: effortlessly dim the lights to when it's time to wind down.
Weje 3.0 and upcoming changes
September 2022
Before the new Weje 3.0 "Dream Team" release goes online, we would like to inform you about some upcoming changes.
"Dream Team" is not about a set of new features, it's a new philosophy, designed and developed with years of experience, that puts team goals in the middle rather than bringing in another small feature. We are at the stage of polishing it right now. You can already be among the ones who will be able to give their feedback about it a few weeks before everyone else. Drop us a line or join our community discussions on Facebook.
Here is a couple of screenshots to give you an idea of what our amazing team of developers is working on. Later, we will sit down to spill the beans on what's new in details.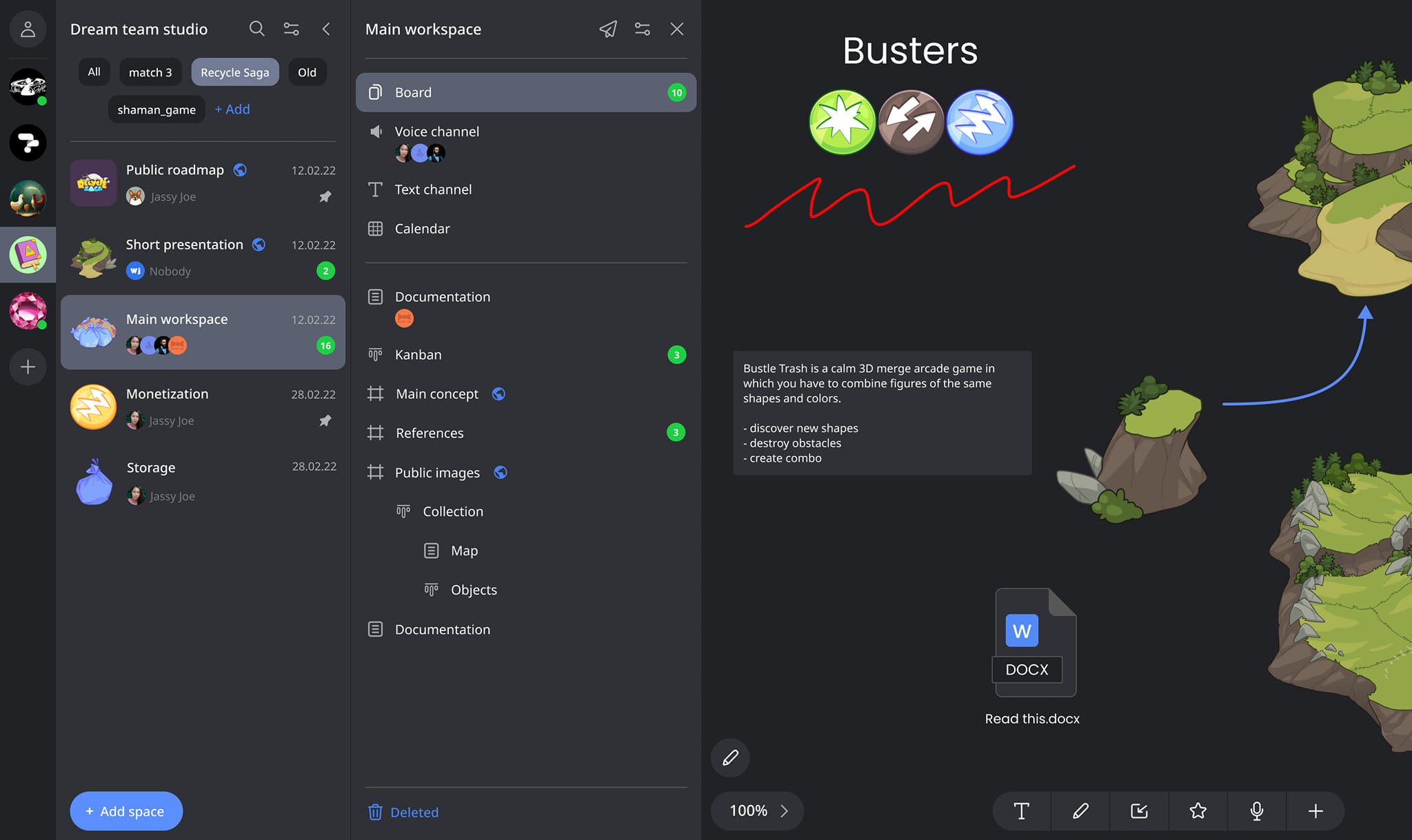 Over the upcoming weeks, we will be making additional investments into our infrastructure to improve the working experience for our customers.
We will make every effort to ensure that there is limited downtime for your account and apologize for any inconvenience this may cause.
Thank you for your patience as we continue to improve our platform.