SWOT analysis is one of the most crucial and commonly used marketing research methods. It stands for Strengths, Weaknesses, Opportunities, and Threats. SWOT is used by businesses and organizations as well as for personal goals. Think through and write down all characteristics that come to mind in regard to your activity. As a result, you will get a better and deeper understanding of what stage your business or personality is currently at. In Weje, you can create your SWOT analysis table in no time by using a free template. Here's a brief instruction on how to do it.
Pick up a SWOT Template
Once you've signed up to Weje, choose "SWOT" on the dashboard. Customize the project's name and click "Create."
Edit and Adjust the Template
A SWOT template consists of four colored cards named accordingly: Strengths, Weaknesses, Opportunities, and Threats. Imagine you are a musician and you found yourself in the middle of a creative crisis. To find out why it happened to you and what you can do about it, it's best to use the SWOT method and analyze your career from various points of view. This will help you see yourself and your business from different angles and quickly find ways to turn things around. In the example below, you can see Strengths and Weaknesses that represent the current situation, while Opportunities and Threats reflect the possible future, which may or may not become a reality, depending on how hard you can work and how lucky you are.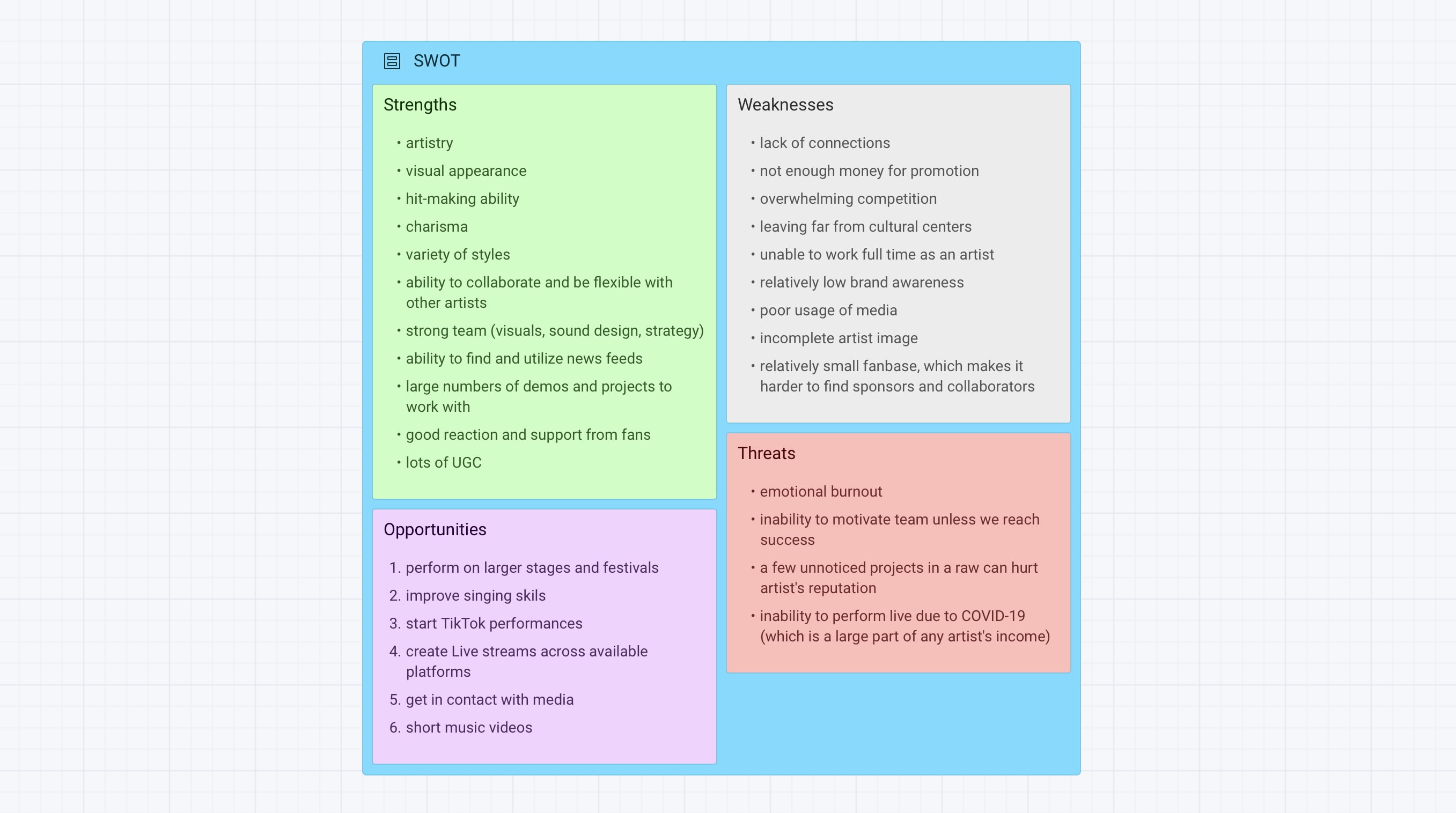 The SWOT board is made of cards — customizable elements with different colors and functions. You can easily move them around the board, change text styles, draw, create lists, etc.
Weje also allows you to add audio and video files, images, Google documents, which helps you gather all data for your SWOT analysis in one place without leaving the board. Use the buttons in the lower part of your screen to create text cards, Doodle cards (where you can freely draw), upload files, and create lists. In the GIF below, the image file is added to the board and connected to the "Strengths" card.
Share SWOT with collaborators
Weje helps you quickly invite your team members via the invitation link or directly in the email. You can control your access settings and decide who can edit or view the project. On the other hand, you can make your project public for everyone on the internet. Click on the three-dot symbol in the upper left-hand corner of your screen, choose the Public switch on or off, type in the email address of your teammate, and click "Invite," like in the GIF below.
You can also change the cover of your SWOT board, its label (color of your project in the main menu), and create a copy.