The days when Skype and webcam were considered all it takes to work remotely have gone. As business rushes faster, issues are complex, deadlines become tougher, agile takes off, and Generation X and Millennials become a workforce, team collaboration tools are vital to maintain and enhance productivity.
People rely on gadgets and software more and more, for both personal affairs and job routine purposes. Judge for yourself: 83% of workers rely on programs to perform joint tasks, and 70% of employees say technologies have improved the quality of collective work. No wonder the virtual collaboration tools market flourishes breakneck, with an estimated CAGR of 13.2% and a $26,5 billion volume by 2027. New programs appear pretty every quarter, not to say about upgraded versions of existing programs. To help one to navigate through diversity, we've compelled the list of genuinely first-rate collaboration tools.
Best collaboration tools
A software may assist teamwork in different ways, thus, to reach the greatest productivity return on the purchased license, one shall decide on the primary usage goal and relevant specifications. We've grouped the entire scope of both free collaboration tools and paid ones so you can check out the TOP – in preferable categories.
Project management software
Confluence
Without software from the Australian giant, the Atlassian, many agile teams' lives would have been a lot different. Confluence is a single and shareable workspace. Accompanied with JIRA, this Java-scripted wiki system became extremely popular and broadly used by multi-language teams – from Tokyo to New York.
The solution includes many practical pre-designed templates for project management and strategic planning purposes. You can initialize and control projects' pipelines and create intricate schemes for teammates' engagement and ongoing tracking.
The Confluence has many features – here are some of the most useful:
real-time connected roadmaps
resources availability tracking
WSJF prioritization
forecasting & backlog management tools
budgeting & metrics control means
Kanban boards
sprint teams' statistics, etc.
There are no ways you can use Confluence for free and, to be honest, this is quite expensive software. A Standard subscription plan begins with $27,000 annually for 120 integrated users. Enterprise packages that cover thousands of employees will cost you several million per year.
This is a multipurpose program for any kind of remote teams, from students and educators to corporate workers and C-executives. The idea is – co-workers complete all project-related tasks within a single cloud-based environment. Thus, associated data and resources are stored neatly and in an easy-to-access mode.
The only thing needed is to sign up, create an online whiteboard, and invite teammates to cooperate. Text documents, spreadsheets, PDF files, external links, visuals from the Internet – whatever the information is, attach or drag and drop this to a Weje workspace and organize it into meaningful data cards. Named cursors and comments allow tracking changes' history while calling and messaging tools suppose you can discuss matters with peers as fast as instantly.
Key features:
pre-designed widgets – checklists, To-Do's, and cards
access from any device, instant synchronization
Kanban boards
sharing options via email or link.
For individuals, small teams, students, and educators – a Free subscription option will be just enough. For extended options, one shall purchase "Personal" or "Business" plans – for $4 and $7 per user per month, respectively.
Notion.so
The name speaks for itself – Notion serves perfectly as a sort of a collective notebook. Its main advantage is simplicity. The clean and native design allows to adapt workspaces for whichever purpose – from simple text reports to all the same Kanban, pipelines, and others.
Shared collaborative docs guarantee that project-related notices are aligned and – on equal access. After one has attached a new object to the workspace, this is placed in a logical layer. Therefore, documents aren't scattered or confused among folders. Filtering, grouping, sorting, and search options allow quick switching between different projects, hence, – handling many at once.
The software is available on both Mac & Windows, as well as in the browser. Some practical instruments one can find in Notion:
comprehensive data structuring – Kanban, documents, roadmaps, calendars, tables
multiple views for individual workspaces
backlog prioritization, etc.
Private users can enjoy Notion for free, while small teams can pay as little as $8 per month.
ClickUp
The program has great intuitive UI/UX, indeed. It serves as a close analog to Confluence – with more limited functionality, however, but at a much lower price instead. ClickUp is a framework to create and manage projects. Dashboards provide complete statistics and a global timer assists for hours' recording and performance tracking. Try also:
tasks templates and interrelation
checklists
workload & goals' tracking tools
priorities framing, etc.
If you consider a 100MB storage will be enough for your purposes, congratulations – you can use ClickUp for free. With a monthly $5 subscription plan, one gets unlimited storage, as well as unlimited dashboards, guest permissions, integration options, and some others.
Online collaboration tools for developers
Git
The most well-known, free eternally, open-source, customizable version control system that is aimed to deliver large software development projects. No, seriously – if your programmers use Git, that's already 80% of the total outcome's success. For teams on a budget, this kit is pretty much the only software needed – to proceed with joint coding.
The Git ensures versions' differentiation and merging. Every programmer takes a copy of the whole developing history on his or her local storage. All edits are copied from one repository to another. The system includes tools for visualizing and navigating through versions' changes history, as well.
GitHub
If you want something different than Git – an ecosystem for remote collaboration with a rich UI, try GitHub. This is a cloud-based environment for coding, equipped with helpful tools – specifically for developers:
synchronization with a desktop coding environment, such as PyCharm or other; automated submission of modified versions to the cloud repository
public repositories – to instantly share a program with the World
immense software package registry
discussions around codes
built-in code review, and many others.
Everyone can create a free account on GitHub and upload as much code as he or she is capable of producing. Teams and enterprises can purchase paid subscriptions – for $4 and $21 per user per month each. These advanced packages include extended storage, auditing, protected branches, and other perks.
GitLab
A DevOps who hasn't heard about GitLab – isn't a true DevOps. The program is an all-in-one package for coding. It provides a single branching tree, dialogue thread, and data storage for developers. The workflow is centralized: all requirements are decomposed into smaller chunks, and push rules & approvals assure scattered teams' actions alignment. GitLab is dearly beloved because of three principles:
"tree"-looking changes' structure
code-reviewing policy
Git-based web repository.
For personal or educational coding purposes a Free subscription plan assists entirely. Startups or software development "sharks" can upgrade to Premium or Ultimate plans to get extended features – for $19 and $99 per user per month fees.
Programs for designers
Figma
The #1 tool for both in-house and remote creative teams. It contains all features a novice or proficient designer might need, and is much more intuitive and simple to use, than Photoshop or Illustrator. The principle is the same as for other virtual collaboration tools – a single online canvas is created and shared between cooperators. Each designer works upon his or her part of the general prototype. After the project is ready, one can download the image or share the whiteboard with the manager or client.
Here are what Figma developers are especially proud of:
FigJam – a canvas for ideation and brainstorming
arc tool, vector networks, dynamic overlays, and auto-layout
shareable libraries, fonts, styles, and reusable components
useful UI/UX templates library.
Amateurs can enjoy Figma with an eternally free account. Extended subscription plans, "Professional" or "Organization", will cost $12 and $45 – per editor per month.
Filestage
The software will be advantageous to lead creative projects, in particular – due to the simplified review and approval processes. Instead of pinging colleagues via emails or bothering about "Cc " and "Bcc" recipients, use Filestage's easy feedback system. Teammates can view & comment on videos, images, or other pieces of design in a dialogue-looking style. Thus, the review process and version control are handled within a centralized proofreading system.
Filestage will be good for:
video content compelling
marketing reports editing
routine tasks automation, like sending reminders or invitations
reviewing diverse creative content – presentations, video, newsletters, product catalogs, etc.
creating & sharing To-Do lists among teammates or with external parties.
Filestage is a completely paid program. With the "Starter" package for $89 per month, you'll be able to handle up to 15 with up to 10 members. For extended functionality, one shall purchase a "Pro" plan for $219 per month or contact Sales regarding the "Enterprise" subscription option.
Creative cloud from Adobe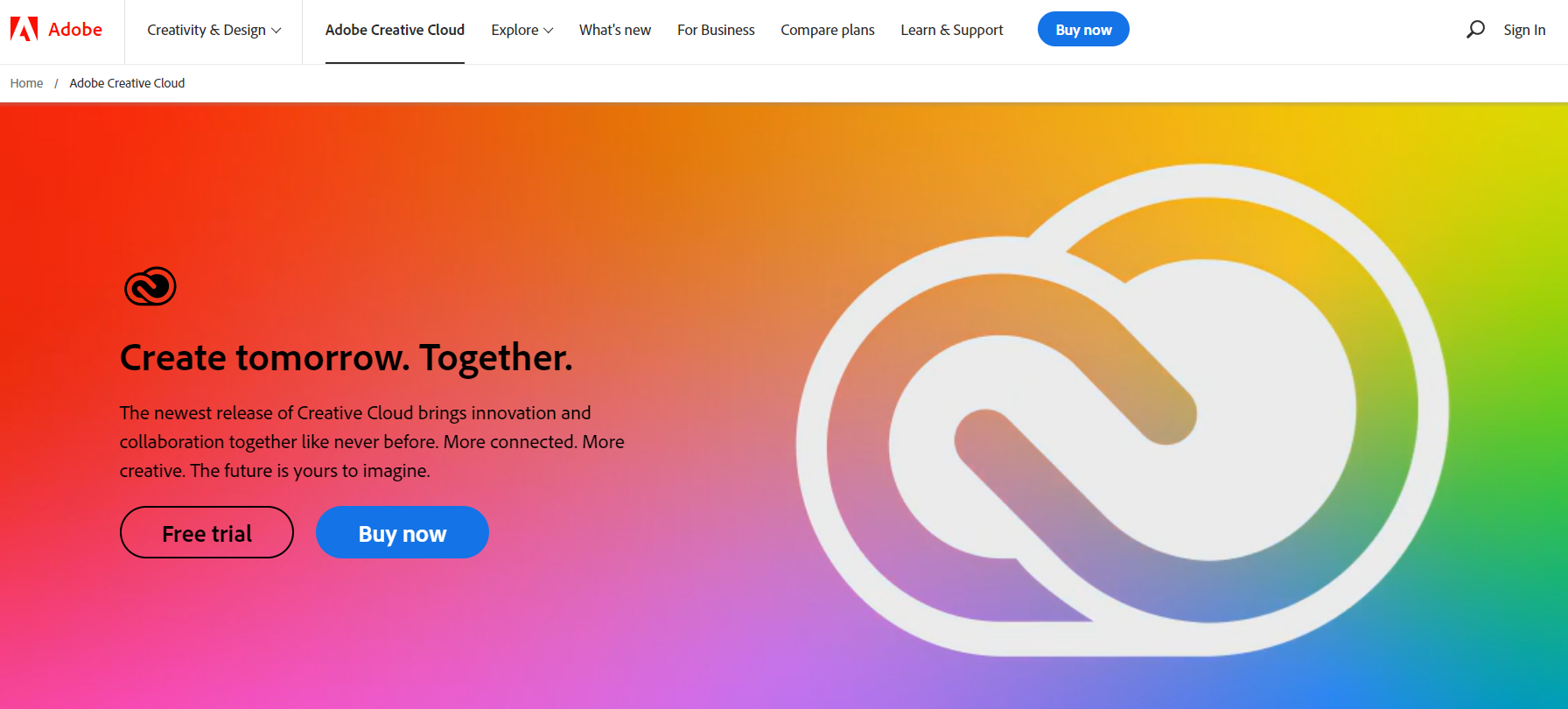 This will be the best choice for professional and large-scale creative teams, indeed. The Cloud includes 20 Apps, like Photoshop, Illustrator, InDesign, and numerous fonts, libraries, and collaborative tools. Regardless of the type of project you create, from photo to 3D and AR, Adobe has something to offer you. The only limitation is the price. If your company is eager to pay from $33.99 to $79.99 per license per month, get ready for the following perks:
1 terabyte of cloud memory or cloud services – for every user
integration with Slack and Microsoft Teams
synchronization with Behance
one-to-one sessions with experts once a year.
Video conferencing tools
Microsoft Teams
For those who got tired from Skype and Zoom, we suggest acknowledging the aforementioned free alternative from Microsoft. It'll particularly beneficial for teams who utilize Windows OS and Outlook. Among key advantages, users mention the following:
effortless integration with the entire Microsoft Suit
simple UI & better security
handy control panel
across-screen notifications on new messages.
You can use Teams for either chatting or video conferencing. The software is irreplaceable for webinars and online presentations, as far as it supports up to 20,000-attendees at once. However, with an increase in the number of users, there may be a need to purchase a paid plan: Microsoft 365 Business Basic, for $5 per user per month, or Microsoft 365 Business Standard – for $12.5.
Google Meet
This is an effortless video calling tool for Gmail users. Launch a new meeting by pressing a single button and copy & share the invitation link – to ask participants to join. Like all products from Google, Meets has a clean and intuitive interface. Great options are email reminders and synchronization with Google Calendar. And – that the program is free.
TeamViewer
A TeamViewer stands a little apart from common remote communication software because it brings connection to the very next level. Not only does this allow teammates to join each other's devices or share screens through a password-protected system, but also – to intensify data distribution through the lifeAR video calls. Teammates can better express their reactions through augmented reality – by instantly adding emojis, 3D pointers, and notes during the streaming process.
Other highlights include:
universal remote access
cross-platforms integration options, for example, with Salesforce
end-to-end connection encryption.
A single user's license will cost around $25 per month, while 30 licenses can be purchased for $75 – every month.
Team chat Apps & software
Slack
For some reason, Slack has surpassed almost all forerunners and became irreplaceable in the list of remote collaboration tools. Aside from good UI, it seems there are no distinct functionality or exclusive options. Some say its popularity among developers and designers is due to irrational emotional engagement and perceiving Slack as a status symbol. Whatever it is, the program is good because of:
clean design – easy-to-read fonts, moderate colors, and visuals
easy-to-navigate dashboard with channels listed
opportunity to attach files by dropping them on the chatbox
opportunity to switch between chatting workspaces, for example, – sign in to another team's account.
Slack basics can be accessed for free, but if you don't want to be somehow limited – purchase a subscription plan that starts from $6.67 per month.
WhatsApp
Although WhatsApp is something used for private purposes, many remote teams utilize it for business purposes as well. A messenger has a habitual and simple interface. Mobile adoption makes the program perfect for chatting on the go and instantly sharing snapshots, photos and videos.
Companies may use WhatsApp Business App to better connect with suppliers and customers, or to create product catalogs and automate responding to incoming requests using dedicated Chatbots for WhatsApp.
Mattermost
This is a Slack-inspired open-source self-hosted conversation tool. Mattermost is indispensable in the cases when chatting must be hosted on third-party servers – for security or whatever other reasons.
Because of the limitless opportunities to edit the App's code, Mattermost is beloved by DevOps teams and SaaS companies all over the world.
LEAD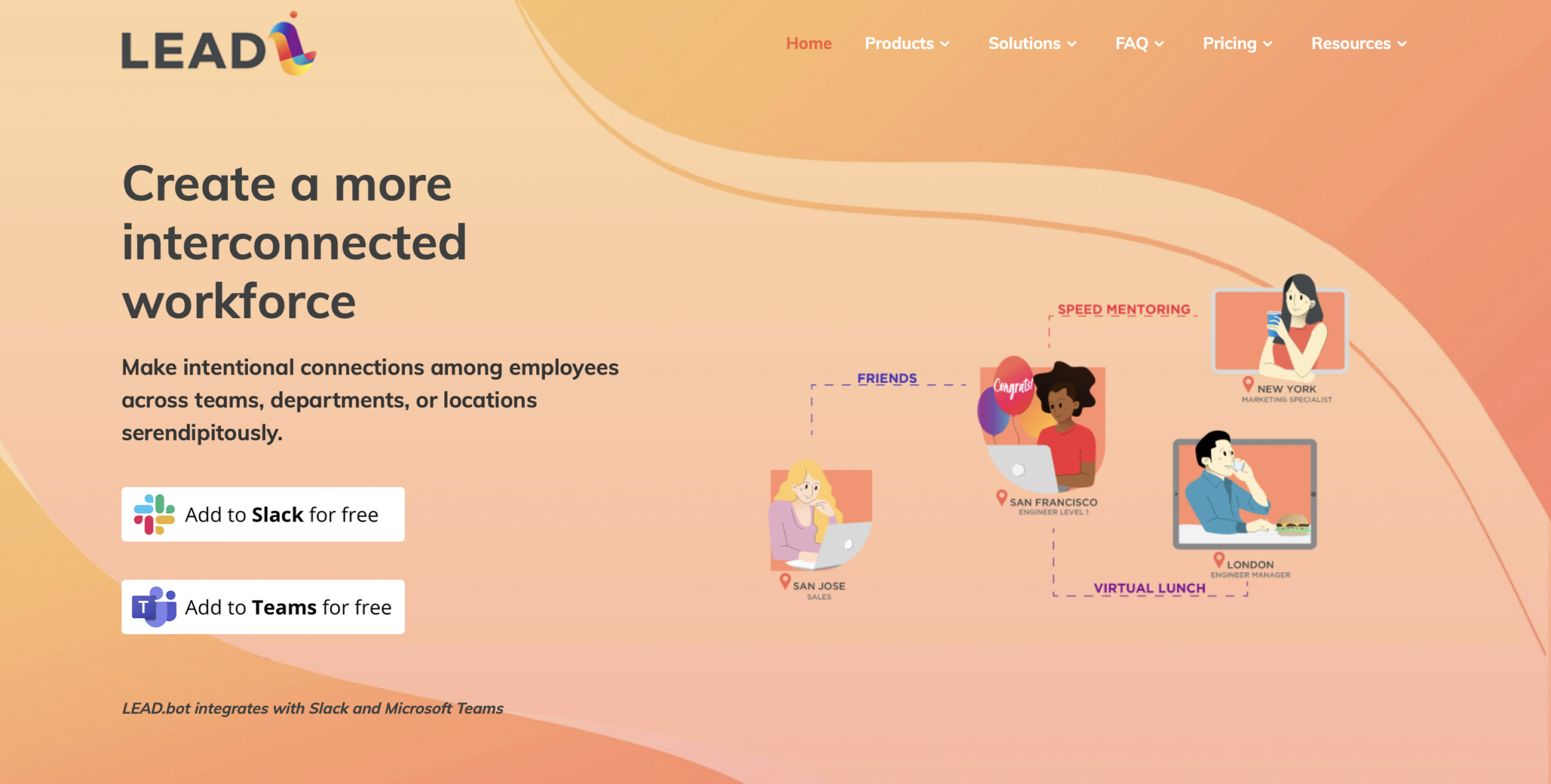 LEAD helps your workforce build trust and friendships whether they are in the same office or working remotely. LEAD makes it easy to launch virtual coffee or group lunches, encourage peer-to-peer meetups for learning opportunities, and helps build internal networks for new hires and existing employees.
Cloud storage for teams
OneDrive
This tool from Microsoft is the first to come to mind when planning a vast information exchange across the team. OneDrive allows to share files of up to 100GB and synchronize libraries across devices. Admins can restrict access to sensitive information via labels and better control sharing through granting expiring access.
Business subscription plans start with $5 per user per month, while a Basic subscription with 5 GB storage is completely free of charge.
Huddle
The program was designed to handle sensitive documents and share these via team members securely. It allows files requesting, as well as versions control and applying for approvals. You can utilize Huddle during inner organizational processes or to exchange documents with third parties and collaborate with clients. Major characteristics:
online workspaces
desktop and mobile apps
public links & view-only mode
files' comparison
templates library
encryption in transit/at rest
API access.
For pricing, contact Hibble's Sales team.
Sync.com
Cloud-based storage with encryption files' protection allows companies to synchronize and share business documents securely. Sync allows teammates to perform with unified source codes, such as access or permission expiry dates. One can request a demo free trial and then proceed with a Standard plan for $5 per user per month.
If applied smartly, free online collaboration tools provide no worse opportunities to enhance teamwork, than paid ones. Whichever program or app you choose, the key is – to train people to use it. Otherwise, expensive and promising tools will turn into collectibles.