Situation analysis can be defined as a process that assists you to recognize new opportunities and challenges in and out of your firm/products or services you render. Plus, situation analysis is also helpful in determining the scope of a problem. After conducting a detailed analysis, you can easily figure out where you stand at the present, determine an effective strategy to tackle and where you want to be.
Situation analysis can be initiated at any time, but it is commonly used before the start of any new project or process in the organization. It helps you to plan the best course of action without wasting time and effort.
If you don't know how to get started, here are five crucial steps of situation analysis.
How to conduct a situation analysis
Analyze your clients
Your customers are always a reliable focal point, so it would be best to start by defining who the group is, their needs, and demands.
Initially, this will look like a huge task but don't be scared. Spare some time to work out things properly. With time, you can come up with a good idea, and then it will become simple. Proceed to update things and refine your findings. You can also take the help of various sites such as Google Trends, customer surveys, and data collection to know your clients.
Furthermore, we will also suggest you create a customer journey map as it will aid in achieving your goals and issues that your users are facing when interacting with your business.
Analyze your services and products
It's always a beneficial step to analyze your current products and services. Make detailed notes of all the services that you render and all of your products. Assess them and figure out they are enough to meet your clients' needs or need any improvement.
A customer journey map is helpful in this case as well. Moreover, you can also obtain customer responses through online reviews, surveys, interviews, or groups. After this, review your suppliers and distributors and the tools that you use in your organization.
In this regard, SWOT is the best and safest approach.
Situation analysis tool: SWOT analysis
You can use SWOT analysis to examine the internal and external environment of a business or organization. Using this simple approach, you can know your strengths/weaknesses and new opportunities/real threats for your business and your competitors'.
Detailed competitor analysis
Conduct a detailed competitor analysis to check out what your direct competitors are offering to their consumers. Know their plus points and downsides. It will give you an edge over your competitors and put you in a better position to strive.
For competitor analysis, we will recommend you to follow the 5C Analysis, a comprehensive framework designed to help business owners from five different areas. And all these crucial areas directly impact your business goals and decisions.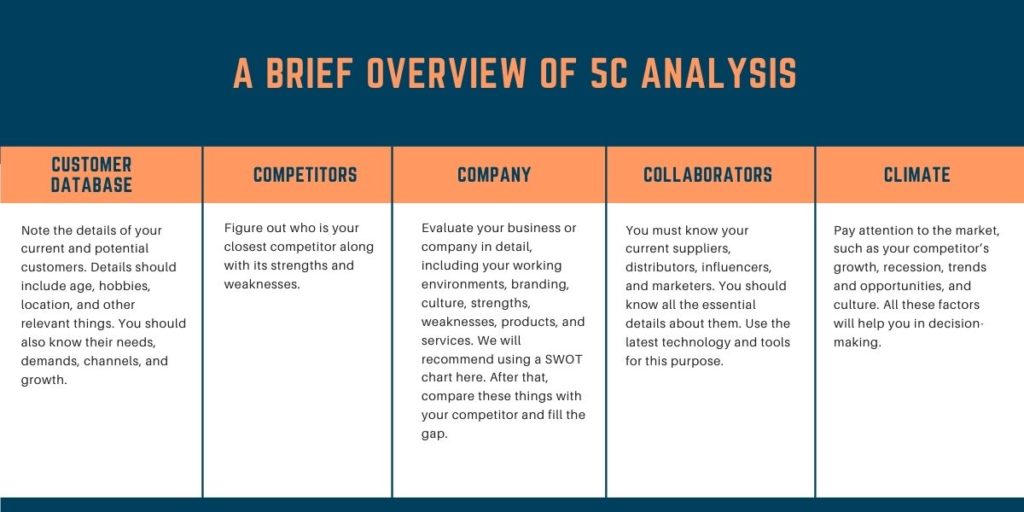 Analyze the working environment
Grab a cup of coffee and critically review the working environment of your business place. Check out external factors such as economic trends that might affect your business or customers. Take notes of all the threats and opportunities.
For this purpose, we recommend you conduct a thorough PESTLE analysis to gain insights about your firm's political, economic, sociological, technological, environmental, and legal situation.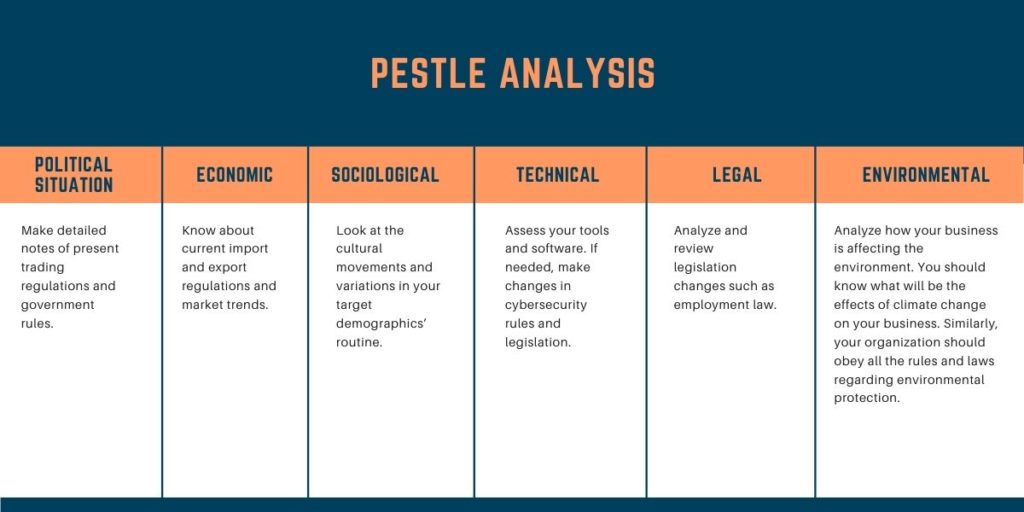 Map your resources
Before you make any strategy, you must know what your resources are. You must know the schedules and tasks of your key employees. Precisely know about the budget and tools that you have and need. After mapping all your essential resources, you can roll.
Situation analysis example
Planning new strategies for your business or want to implement them, there are some factors that you must consider in your business operations. This free Situation Analysis template comes ready-to-use and enables you to figure out whether your business can prosper as per its ability. Plus, you can also edit and save it in various file formats to cater to your exact needs.
Market situation analysis template
The Market Situation analysis for any business includes research of the target audience, target market, direct and indirect competitors, challenges, and firm's competitive differentiators. Market situation analysis includes the best and clear description of the current market trends and state.
Some common questions that the Market Situation Analysis answers include:
What are your current products and services or their lines?
How big is the opportunity in the market?
Is your sales and distribution setup reliable?
Who is your actual target audience in terms of age, demographics, income levels, and more)?
What are your biggest competitors in the market?
Historically, how well have you sold your products?
Benefits of situation analysis marketing
A comprehensive situation analysis marketing report will help your business in the following ways:
It helps in finding new potential clients.
Identifies improvements and weaknesses of your services and products.
Helps you to figure out how to penetrate the market.
Gives you a realistic assessment of your business procedures.
Helps you to identify fundamental and key parts of the business that need investment.