Wondering what does SWOT stands for? Well, it is a framework to list out Strengths, Weaknesses, Opportunities, and Threats. Commonly, it is presented as a matrix of 2×2 and is a quite popular tool utilized by businesses worldwide.
This guide entails all you need to know about SWOT Analysis. From SWOT analysis definition to how to do a SWOT analysis and SWOT analysis examples, we've got everything covered.
What is a SWOT analysis?
Let's first understand SWOT analysis meaning before you get into how to do it.
A SWOT analysis is a practical and straightforward system of the evaluation model. SWOTs glance at a blend of internal and external aspects and evaluating strengths and weaknesses. It is handy for gaining a comprehensive synopsis of a business, brand, product, or new project soon in the project's life cycle.
SWOTs encourage you to focus on your own internal strengths and weaknesses and start thinking about external possibilities and threats that could impact your company's performance and success. It also encourages you to unearth what the differentiators between your rivals and yourself is.
Since at least the 1960s, SWOTs have been around, though their origins are a mystery, but are still utilized in businesses worldwide.
A SWOT is a good starting point for you to do all the assessments, but the only SWOT's downside is that it does not yield actionable results. Instead, it helps you comprehend where you are actually standing and how you can start pushing your business forward. A strong SWOT is often expected to be accompanied by further planning and development.
Why do you need to get your SWOT analysis done?
Don't forget that no business exists in a vacuum. So, it is essential to evaluate all internal and external aspects. SWOTs can help you acquire a clear and comprehensive understanding of your company's position in the wider market and identify plausible opportunities to unearth.
The advantage of a SWOT analysis is that you can compare each individual letter to its three rivals or counterparts. You can unearth the connection between your strengths and weaknesses but even glance at how your strengths could be utilized to help leverage opportunities and evaluate the potential that your strengths have to help bolster your weakness.
Who should do a SWOT Analysis?
Company founders and leaders must be deeply involved for a SWOT analysis to be potent.
This is not a job that can be delegated to others. But organizational leadership shouldn't do the job on their own, either. You'll want to assemble a group of individuals with distinct perspectives on the organization for excellent outcomes. Select individuals who can represent various facets of your organization, from customer service and sales to marketing and product development.
Innovative organizations can also look beyond their own internal ranks when they do a SWOT analysis and get feedback from consumers to bring their unique voice to the blend.
If you start or run a company on your own, you can also do a SWOT analysis. You can recruit additional viewpoints from friends who know a little about your business, your accountant, or even suppliers and vendors. So, it means getting multiple points of view is essential. This even comes in handy when it comes to personal SWOT analysis.
Existing firms can use a SWOT analysis to analyze their present situation and figure out a plan to move ahead. But, note that things are continually evolving, and you'll want to re-evaluate your approach, beginning every six to 12 months with a new SWOT analysis.
A SWOT analysis is a component of the business strategy process for startups. It would help you formalize a strategy to begin off the right foot and recognize the path you want to go.
How to do a SWOT analysis?
So, how to do a SWOT analysis the proper way? The answer to the question is you want to bring together a team of individuals to work on SWOT analysis, as mentioned above. However, to get it done, you don't require an all-day retreat. One or two hours is more than enough
Acquire The Right People
Gather individuals from various parts of your organization and ensure that you have members from every team and department. Within your business, you will find that numerous groups will have completely different viewpoints, and it will be crucial to making your SWOT analysis effective and successful.
Throw Your Thoughts at A Wall
A SWOT analysis is more equivalent to brainstorming meetings, but this analysis brings you so many correct and incorrect ways to run them. We recommend giving every member a pad of sticky notes and letting everyone generate thoughts on their own calmly to kick things off. It will do because it helps to prohibit the mob mentality and guarantees that all voices are heard.
After collecting all the sticky notes, place all the sticky notes up on the wall after five or 10 minutes of private brainstorming and group-related thoughts together. At this point, encourage someone to add extra notes if anyone else's idea triggers a new thought.
Rank the Ideas
Once all of the thoughts are sorted, it's time to rank the ideas. It's best to use a voting system where everyone gets five to ten "votes" allocated in whatever direction they like. For this part of the exercise, sticky dots of various colors are helpful.
You should provide a prioritized list of ideas focused on the voting exercise. Of course, the list is now up for discussion and debate, and everyone in the room should be able to make the final decision on the priority. Typically, he is the CEO, but it may be assigned to someone else responsible for business strategy. For each of your SWOT analysis four categories, you should follow this process of generating ideas: strengths, weaknesses, opportunities, and threats.
Read on to explore SWOT analysis examples that can help you understand better.
SWOT Analysis Examples & Templates
Here's a small sum up from us on the SWOT topic.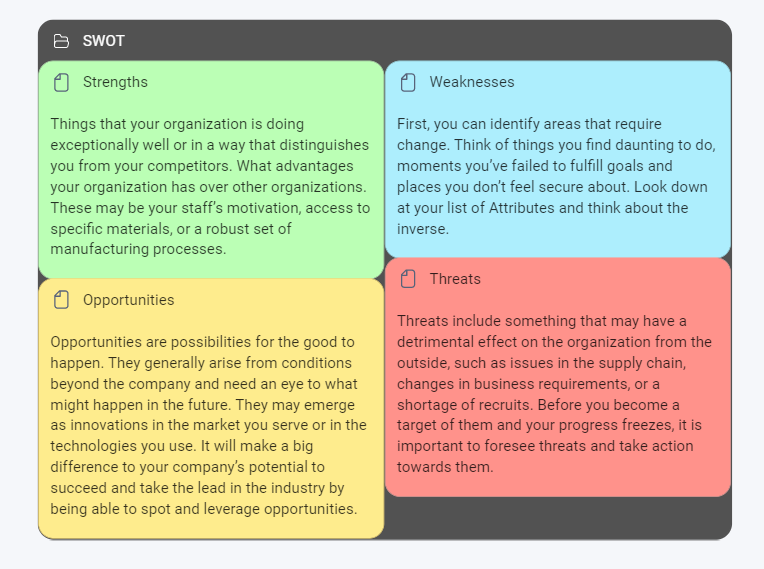 The same way we proceed on this instruction on Weje board: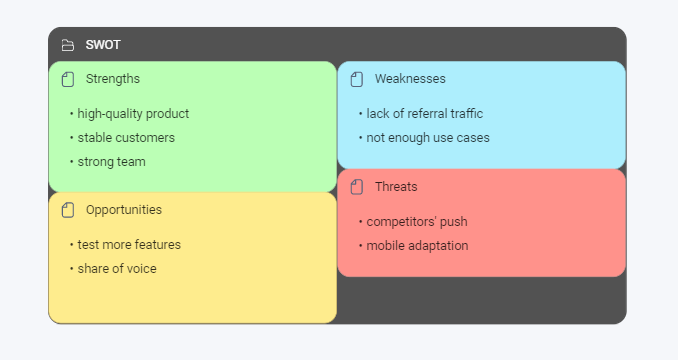 Have a look at the SWOT analysis template of popular brands – Google, Nike, Facebook and Amazon.
SWOT Analysis Template of Google, Alphabet. Inc
This is a SWOT analysis template of Google, the #1 search engine introduced by Alphabet. As the most popular search engine globally, there are opportunities out there in the market and competition to contend with while running a company. This SWOT analysis for Google is a decent instance for a big corporation's model analysis.
SWOT Analysis Template of NIKE
This customized NIKE SWOT analysis summarizes its weaknesses and strengths as well as its opportunities and threats. Any brand that is universally popular or is still new to the market may use this SWOT analysis template to evaluate external and internal variables that may influence its brand authority and market development.
SWOT Analysis Template of Facebook
This is Facebook's SWOT analysis below. With more than 2 billion users, Facebook is one of the most popular social media networks globally. Like the one below, a SWOT analysis can be used to determine the current position among competitors. It is also helpful when it comes to the creation of innovative tactics to boost brand authority in the market.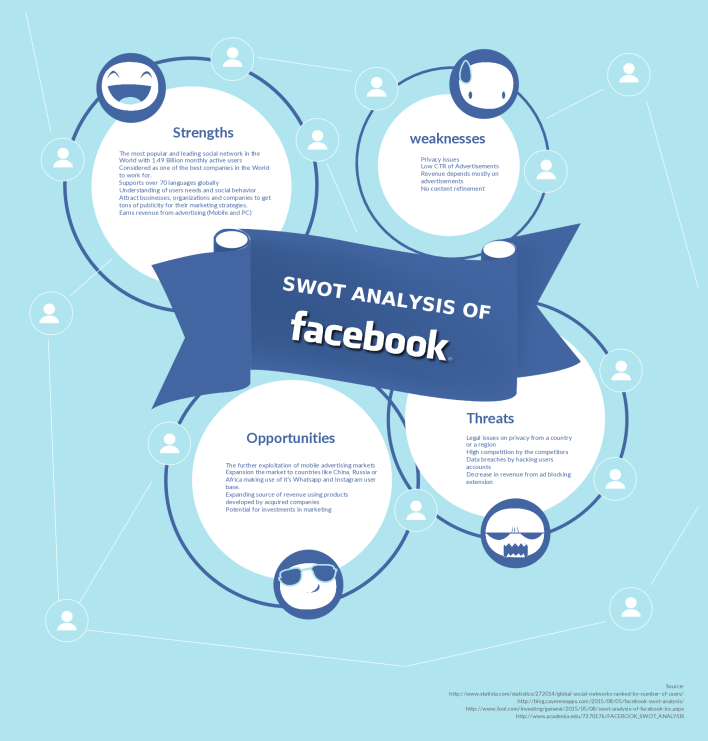 SWOT Analysis Template of Amazon Inc.
Amazon is one of the world's most successful e-commerce and cloud computing firms. With the exponential growth in the eCommerce and cloud computing industry, Amazon has encountered huge competition from thousands of other firms. Under such conditions, a SWOT analysis like this is handy for Amazon and every other company to come up with new tactics to keep ahead of the competition and escape obstacles on their way.
Questions to inspire your SWOT analysis
Here are a few questions you should ask your team when you're developing your SWOT analysis. These questions can help demonstrate each section and trigger creative thinking.
Strengths
Strengths are things that your organization is doing exceptionally well or in a way that distinguishes you from your competitors. Think of the advantages your organization has over other organizations. These may be your staff's motivation, access to specific materials, or a robust set of manufacturing processes.
Your strengths are an essential part of your organization, so think about what makes this "tick" happen. What are you doing better than anyone else? What are the values that drive your business? What unique or low-cost resources can you draw on that others can't? Identify and analyze the Unique Selling Proposition (USP) of your organization, and add it to the Strengths section.
Then turn your view around and ask yourself what your rivals may see as your strengths. What do considerations mean that you're going to get the sale ahead of them?
Know, every part of the company is just a strength if it offers you a simple edge. E.g., if all of your rivals offer high-quality goods, then a high-quality manufacturing process is not the market's strength: it is a requirement.
Weaknesses
First, you can identify areas that require change. Think of things you find daunting to do, moments you've failed to fulfill goals and places you don't feel secure about. Look down at your list of Attributes and think about the inverse.
Weaknesses can still be things that you have the power of and things that you can bring to change. For example, you might use SWOT to evaluate your brand better and explain whether your clients have selected your rivals over you or why there are services you are not actually offering.
Opportunities
Opportunities are possibilities for the good to happen. Still, for yourself, you will need to assert them! They generally arise from conditions beyond the company and need an eye to what might happen in the future. They may emerge as innovations in the market you serve or in the technologies you use. It will make a big difference to your company's potential to succeed and take the lead in the industry by being able to spot and leverage opportunities.
Think of good opportunities that you can spot instantly. This need not be game-changers: even tiny advantages will improve the competitiveness of your organization. What fascinating industry developments, big or small, are you aware of which may have an impact?
It would help if you also looked out for changes specific to the sector of government policy. And social trend changes, demographic profiles, and lifestyles can all generate enthralling possibilities.
Threats
Finally, threats include something that may have a detrimental effect on the organization from the outside, such as issues in the supply chain, changes in business requirements, or a shortage of recruits. Before you become a target of them and your progress freezes, it is important to foresee threats and take action towards them.
Think about the challenges you face while promoting and selling your stuff. You will find the quality requirements or specs for your products are changing, and you may need to change those products if you are to remain at the forefront. An ever-present threat is emerging technologies, as well as an opportunity!
You must understand what your opponents are doing and whether the organization's focus should be changed to meet the challenge. But note that what they're doing might not be the best thing to do for you, and avoid copying them without understanding how it will improve your situation.
Be sure to explore whether your company is extremely subject to adverse threats. E.g., do you have bad debt or cash-flow concerns that could make you vulnerable to even minor shifts in the market? This is the kind of threat that can affect your organization badly, so be warned.