We don't need to explain how digital whiteboards became popular today. At first glance, they may seem to be unremarkable software for making sticky notes online. However, it's a real power broker for team collaboration and productive individual performance. Whiteboard apps belong to the communication & coordination segment of software, which accounts for over 57% of total team collaboration software revenue. Now, this is the most fast-growing and profitable niche, with its solutions transforming conventional workspaces into digital. Already intrigued about the Universe of digital whiteboard apps? – Here's our comprehensive guide on how to get deep into it.
What is a whiteboard app?
Virtual whiteboards are digital canvas, usually enhanced with built-in collaborative instruments: 
– reporting/planning/organizational templates, painting tools, online sticky notes, flexible lists, and so on. Shared digital workspaces do make a difference to teamwork productivity and become great helpers to popular tools, like Skype and Gmail
Here's how it usually happens without a collaborative tool. Say, a company has both in-house, remote, and outsourced employees located in several time zones. A typical business week starts with a call to review the backlog and plan a weekly sprint. Every day, team members have to exchange information, typically in the form of emails, text messages, or video calls. Not to say that there may be numerous comments, ideas, and recommendations forgotten in the chat. This is a case when the joint workflow depends much on every single participant: if one forgets to timely request/share access to the document, is out of business for a while (e.g. gets sick), or leaves the company – the workflow will come to a standstill.
Online whiteboards can help to avoid these threats. Regardless of what exact type of work employees are assigned for – preparing financial statements or launching marketing automation – they can perform these within the whiteboard's environment.
How a digital whiteboard may assist with daily tasks?
Here are just a few possible use cases examples that can take place in day-to-day average company's operations:
Market Research
A team of marketers is about to carry out research to study consumer preferences, prepare a report, and present it to C-level marketing managers. To manage the survey, they can handle an online poll using Google Forms and put the beta version onto the online canvas so that all colleagues get access to review the questionnaire and brainstorm how they can use all that feedback and solve questions.

Whiteboards, e.g. ones you can create with Weje, usually have a "named cursors" option. This means that while someone is making edits, others can see his or her name and track actions in real-time.


After the questionnaire is ready, collaborators can start targeting interviewees. Information about respondents, like their emails, names, and response status, can be put on the same canvas so that it's at hand any moment. At the end of the research, marketers can prepare a summary within the same whiteboard. They may link the document to canvas and start filling in pages – drag over charts from the survey form, describe findings, upload images, and so on. When the report is ready, collaborators can download it or simply grant access to all stakeholders.
Business Plan
Many web whiteboards have pre-designed templates for pretty all business purposes, including planning and reporting. Say, you have a business idea and want to raise funds. You can assemble all analytics within a single digital environment – an online canvas – and then work on these further:
prepare descriptive tables
These are a classy and substantial part of any business plan. You can create from scratch or use templates, for example, the one Weje has – SWOT, Pros & Cons, Retrospective, MOSCOW Prioritization, or anything else that best gives a picture of an idea.
A business plan isn't genuine without a risk assessment. List all possible performance threats on your whiteboard and share the canvas with experts. Ask them to rate every point, according to the extent of its possible impact, and then calculate the average risk's score.
Regardless of how brilliant the idea seems, return on investments is what may persuade the creditor the most. For the ROI chapter of the Business Plan, you can contract financial consultants and accountants, invite them to the whiteboard, and ask them to review and approve your calculations.
After the money is raised, you can create a new online canvas where all reports about the ongoing project's performance will be stored. Just share access with stakeholders, so that they can see the latest figures at any moment.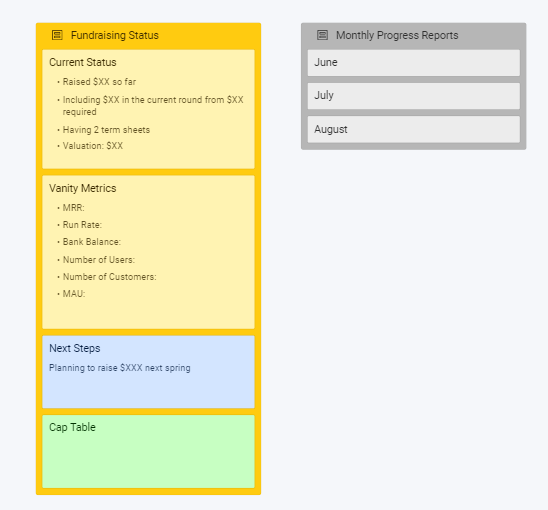 Financial Statements
Preparing quarterly or annual financial reports is not an easy task because it requires one to assemble immense data from various departments, like Procurement or Sales, and bank accounts. To manage this, a team can create 4 digital canvases – Balance sheet, Income statement, Cash flow statement, and Statements of shareholders' equity. Then, you can link related documents (invoices, bank statements, bills, etc.) to the respected canvas and process data with the team of accountants. After the draft Statements are ready, share access to the digital whiteboard with the Financial Manager, so that he or she can review the document.
Who should try online whiteboards?
Virtual whiteboards are all-purpose tools. They can be used by not only teams but individuals for their private purposes, as well. Most instruments are free, so it is worth nothing to adapt online canvases to manage daily affairs – from creating grocery lists to designing an apartment layout. Web whiteboards can come in handy for:
teachers and lecturers – they can create and share lesson plans, presentations, handouts, home tasks, and even carry out remote knowledge assessments. For example, by putting exam questions on the canvas and restricting access for a limited time
pupils and students – they can use digital whiteboards to prepare joint or individual projects and exchange with educational materials
travelers – online whiteboards are just the right tools to plan trips; one can keep all information here: from purchased tickets and booked vouchers to sightseeing addresses, public transport schedules, restaurants lists, etc.; because notes are stored in a digital cloud, a traveler will have access to them from any device
designers – although whiteboards don't offer as wide kits of tools as professional graphics editors and design programs do, they are convenient for prototyping and making amateur designs, e.g. mood boards
bloggers – web whiteboards can turn to be a content-making studio; one can use canvas to attach links to YouTube videos, keep related cover images, notes and comments, write down scenarios and timelines, descriptions, and so on; every blog post or video can have its dedicated canvas shared with external parties – designers, sound makers, and writers
ones who work from home – time is an asset that requires handling; a web whiteboard can become a handy notebook to plan the workday: keep notes to the upcoming calls and meetings, links to presentations, or most-used tables and documents.
How to use digital whiteboards?
Think of a whiteboard as a substitute for a handwritten daybook – to start writing, one has to open it, take your pan, and pick up the blank page. Same with digital canvases. Registration takes seconds, for example, if you decide to create an account in Weje, you can sign up with Gmail and don't waste time on filling in the form's fields. Depending on the interface, you can get on the blank canvas or the "Dashboard" section straight after registration.
Navigation is straightforward – you can see all widgets on top or at the bottom on the canvas. The most common are: boards navigation, drawing tools, online sticky notes, importing/exporting options, and chatting. Also, canvases display users' avatars so you can check out who's active at the moment.
Whiteboards are designed for effortless work with information, so you can arrange data with dragging & dropping, grid mode on or off, and zooming that can be adapted to you. Separate pieces of information can be grouped, re-grouped, and ungrouped, and after – downloaded in whatever format a user needs. To share the workspace with someone, you only need to grant access via email. After the person accepts an invitation, he or she will be able to start editing the canvas.
How to choose the best virtual whiteboard?
Popular digital whiteboards have similar functionality, so it's rather a UI preference that influences one's choice. Nevertheless, there are a few quality benchmarks you can pay attention to:
An ability to make a cozy workspace with boards
Make any board related to the topic easily and organize different types of information with cards, lists, grids.
Team collaboration features
They are a must when you need to see who's working on a canvas right now, chat, and point out objects that are very important. All these help collaborators to work simultaneously within a single environment.
online sticky notes and flexible lists
Instead of writing a clumsy note with a digital pen, it's better to insert a neat sticky note on the canvas, isn't it? And organize it effectively in logical parts what to be done.
Teams around the world deal with the same assignments – create projects, write reports, conduct assessments, build processes, and so on. Instruments for these assignments have long been described in the literature – these are all kinds of matrices, diagrams, and tables. Instead of starting from scratch every time, it is much more convenient to pick up a pre-made template from the whiteboard and start filling it out. It's also good if the digital whiteboard has a workflow or Kanban templates because in this way you can use it as a project management tool.

Before you go – 5 web whiteboard tools to consider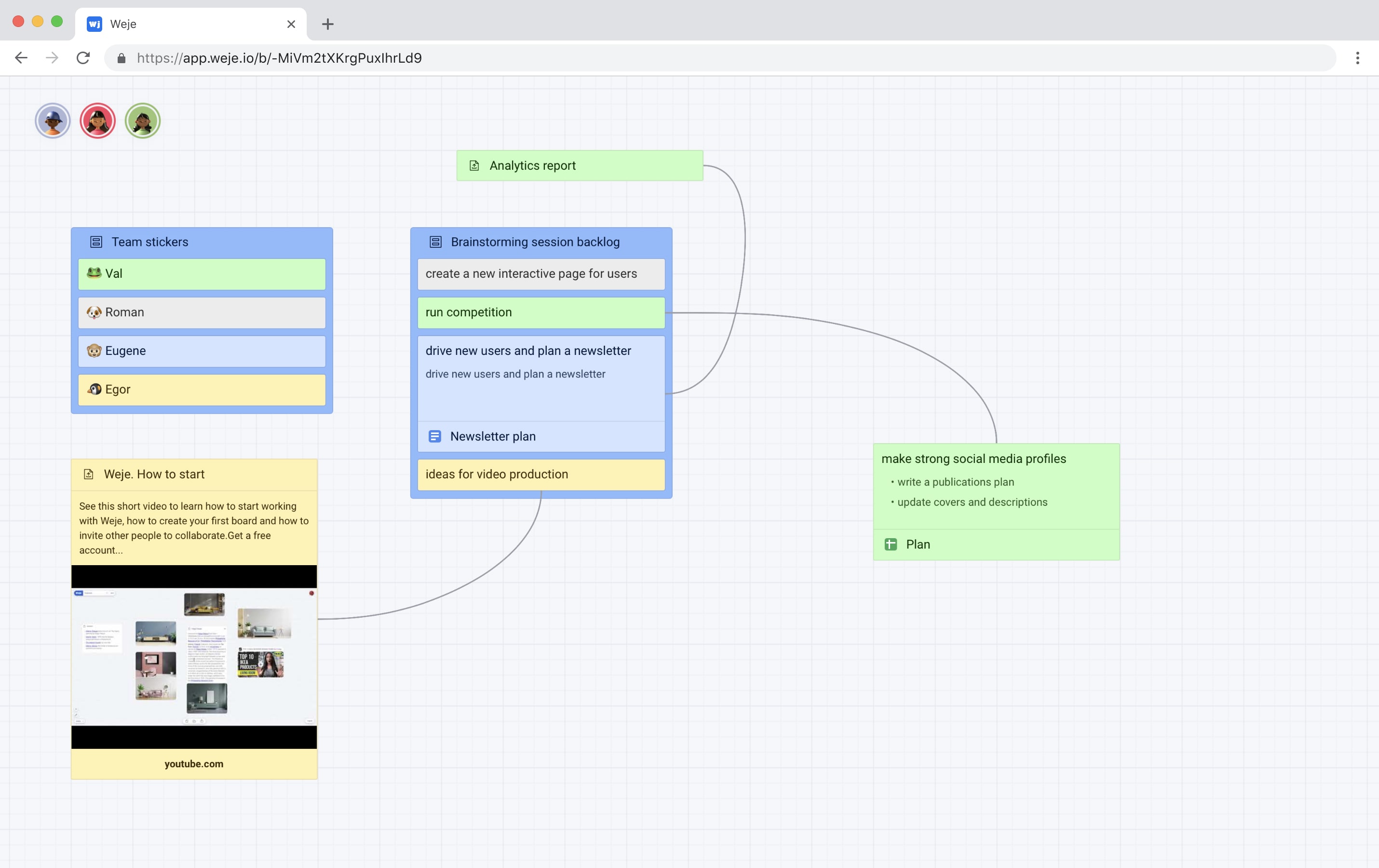 Weje is one of the simplest tools if you have never tried e.g. online sticky noting. Its core ease lies in a flexible UI that can be used even by small children to fix their favorite topics on a mood board. 🙂
What's in:
drag & dropping, scaling, different grids, zooming, and easy navigation between boards
support of all file types and embedding options (e.g. Google docs and YouTube videos can be reviewed directly on boards), online sticky notes, and flexible resizable lists that can be turned into a Kanban/mind map by yourself
ready-made strong templates for different purposes
team collaboration tools, like-named cursors, who's in, sharable options and chat in a real-time
drawing tool and different data grouping options.
Weje fits both teams and solo players. You can adapt it for production and creative thinking. For example, – use whiteboards to mind map ideas, run brainstorming sessions, do lesson plans or so.
A former RealtimeBoard, Miro is another popular shared workspace. It is well-liked by remote teams because of its convenience and adaptability. Thus, the tool can be integrated with Jira, Trello, Zoom, Microsoft Teams, Slack, and others. Moreover, you can combine Miro with third-party software via API or IFrame.
Other whiteboard's features:
online stickers and arrows to show connections
embedding option
real-time discussions
screen sharing and presentation modes
supports major media, including YouTube and Vimeo videos.
This is a whiteboard app for real-time collaboration. Unlike Miro and Weje, Explain Everything targets primarily casual users, e.g. students and thinkers. The tool is purposeful for teaching and sharing experiences. Thus, it has a screencast option – a user may record on-screen actions with audio, and then share the video with mates or learners.
For team players Explain Everything has something too:
personal interaction during virtual meetings or calls
an option to create customized virtual sales calls – to address prospects
whiteboards can be accessed via the browser or iOS and Android apps
integration with Salesforce, DropBox, and other software.
Limnu
Limnu has a simple and clean interface – it'll suit ones who don't like "glitz and glitter" in the interface. Users can create countless whiteboards, edit them, and use search and sort options to find some fast.
The software is available both in browser and via an iOS app, so it's possible to use Limnu with smartphones or tablets. The tool also offers an agile access control – users can choose to restrict access to whiteboards within an organization or make them shareable with external collaborators.
Of course, Google couldn't stay away from team collaboration tools and created its whiteboard app – Jamboard. This is a free interactive tool where users can create and share "Jams". These are something close to standard Google Documents and digital whiteboards. When you create a Jam, a blank document opens, with the option to draw, insert images, sticky notes, and text boxes. Like all Google files, Jams can be easily shared and are stored in one's Drive.
Digital whiteboards are performance-boosting tools. Teams or individuals can use these for either business, education, or entertaining purposes. The assortment of web whiteboards is immense, and the majority are quite close substitutes in terms of functionality and quality, to be honest. So, to find what works best for you – just try and compare several.