The great Benjamin Franklin once said, "by failing to prepare, you are preparing to fail," and it cannot be truer in business. It is a war out there and the only way you can win is to have a solid action plan in your arsenal.
With research numbers revealing that 20% of new businesses fail during the first two years, 45% during the first five years and 65% during the first ten years, creating that action plan has become a must today.
The first step to do is understanding what is an action plan, why you need it and how you can get it right.
What is an action plan?
In essence, an action plan is a checklist or a series of lists that contain the tasks or steps needed to complete or achieve a goal.
Forming one of the foundations of any business strategy, an action plan breaks down your goal into attainable tasks that you must achieve within a specified timeline. So you have a clearer picture of what needs to get done to get to where you want to be.
But an action plan doesn't just provide you with the steps to achieving your goals. It also goes into detail about when each task should be done, who will be involved in these tasks and how you should manage and follow up on them to make sure nothing gets neglected or skipped because that will affect your end goal.
Having an action plan also helps you minimize and mitigate risks, avoid costly errors and make the most of your time, money and resources.
Why an action plan is essential?
If you're already in business and you still don't know how to write an action plan, you're actually not the first.
In fact, a lot of businesses get so caught up with the pressures of developing a great product, preparing for a successful launch and running a marketing campaign that they forget to develop an action plan. They only realize that mistake when it's already too late.
Developing a concrete action plan is essential for the following reasons:
It helps you stay on track
It's very easy to get distracted when you have too much on your plate. But when you have a concrete action plan that tells you exactly what to do and when it should be done, you can focus your efforts on achieving your goals and not get sidetracked by other tasks that are not central to what you're trying to accomplish.
You can also make sure that no important details or steps are missed to avoid mishaps that could lead to failure.
It keeps you motivated
You need commitment and motivation to run a successful business, but that's not always easy to maintain. Paper writing down your goals and the steps on how to achieve them will keep you committed to following all the tasks that you need to hit your targets.
Knowing where you're going is also one of the best ways to keep yourself motivated even during the toughest times.
It helps you prioritize
If you want to accomplish anything in business, you need to know how to prioritize tasks. With an action plan, it would be easier for you to determine tasks that should be on top of your list because they have the most impact towards your goals.
It would also help you know who should be working with you on certain tasks so you can delegate well within your team and maximize everyone's capabilities, talents and resources.

It allows you to improve your business
Here's the reality: you don't have control over everything in your business, but what you can control, you have to take advantage of.
With a written action plan, it's easier for you to know your strengths and weaknesses as a business, so you can improve any loopholes that could hinder you from reaching your goals.
An action plan also helps you build a certain level of credibility for your business because it projects a sense of organization in your business.
The right people and time to create an action plan
Every business needs a concrete action plan, but it can also be used in different situations. You can create your own action plan as an entrepreneur and so can your managers, leaders and supervisors to make sure that they achieve their own goals that will ultimately lead to what you're trying to achieve as a business.
Ideally, you should put an action plan the moment you build your business. Some experts also say that you should give yourself the first six months from starting to create an action plan since by this time, you should have your goals, objectives, mission and vision in place.
But if it's been a year or two years since you started your business and you still don't have an action plan, you can always begin now.
This will still give you the opportunity to get back on track with your goals, correct any mistakes and have a clearer path where you can navigate your business more smoothly.
The best practices in creating an action plan
Whether you're a startup or you've been in business for years, these action plan best practices will help you create a smart, actionable and consistent action plan that will guide you towards achieving your goals:
Define your goal
This is a no-brainer. What do you want to achieve by the end of this action plan? You have to know what you want to achieve and where you want to be or else, you're just setting yourself up for failure.
Although it's every entrepreneur's goal to earn well and grow, you have to be more specific with smaller goals in order to achieve those bigger, grander goals.
Whether it's solving a problem, starting a new idea or just improving what you already have, it's very important to define your goal because it will form the foundation of your action plan.
Determine your tasks
Now that you have an end goal in mind, you can start brainstorming the specific tasks that need to be done in order to reach that goal. To avoid feeling overwhelmed, focus on the first task first and work your way from there. Involve your team in identifying your tasks so you don't miss anything that needs prioritizing.
Work on the details
It's not enough that you make a list of all the tasks that need to be accomplished to reach your goal.
To make sure that you really tick of those lists, you must be specific with them by creating a timeline, describing each task and delegating the right people to complete them. This will make it easier for you to follow up on the process and make sure that no tasks are left undone.
Communicate your plan
You can't accomplish your goals alone, so it's very important to communicate your plan with the rest of your team so that everyone is on the same page.
Explain how each team member will play a role in your action plan and how each task will fit into achieving your end goal. This will make it easier for you to ensure that everyone knows exactly what they need to do to contribute to the success of your business.
Create a follow-up process
You can't just get the ball rolling your action plan and let it do its work. If you want to accomplish something, you have to be consistent in following up and measuring your progress.
That is when a follow-up process becomes beneficial because it allows you to know which areas are performing and which are falling behind. This way, you can make improvements before things get out of control and recognize people who are doing more than expected to help you reach your goals.
Visualize your action plan
Visuals are so much more meaningful for human eyes than words. When you take time, sit down in front of a laptop or take a notebook and pen in your hands, start outlining plans, and enhance them with drawings, you get this mind-body connection and a feeling of control over the situation. You can set more clear objectives, work out further steps, and reduce the risk of falling into procrastination. So, to stay focused on your goals and achieve them faster, map your action plan out:
Even though you may need an action plan for business purposes, don't ignore bringing a little piece of design into it. You'll see how more self-explanatory and inspiring it will appear for both you and the team.
To create a visualized, still, formal action plan, think about adding pie charts, schemes, flowcharts, and matrices. Use colors, arrows, and overlays – to build interrelations or show spans. Also, add icons, simple geometric shapes, borders, and other designs so that the big picture will look self-explanatory and less verbose.
If you can include even more visualization – go ahead, do it. Sometimes, photography or GIF may be straight into the bowl and worth a thousand words.
Re-evaluate your action plan
No matter how meticulously done an action plan is, you may still need to improve it along the way. To re-evaluate what you already created, try to use the SCHEMES acronym, which stands for Space, Cash, Helpers, Equipment, Materials, Expertise, Systems.
This guide will help you determine if you have everything that you need to reach your end goal in the most efficient way possible.
An action plan is essential, whether you're a huge company, an organization, a small group or even as individuals. With an end goal in mind, it's easier to navigate your way through all the challenges, tasks and milestones in the business.
You can also create a more cohesive system within your team since everyone knows exactly what they need to do to contribute to what you're trying to accomplish.
At the end of the day, it's all about being smart with your choices as a business and organization.
Creating a solid action plan is definitely one of the best decisions you'll ever make not only for yourself but for the success and growth of your entire business.
Action plan example
When building both personal and work-related action plans, always start with the goal. For a simplified version, it's better to use flowcharts because they're more neat and representative. But if you need a detailed action plan, it's better to proceed with a ready-made Weje template.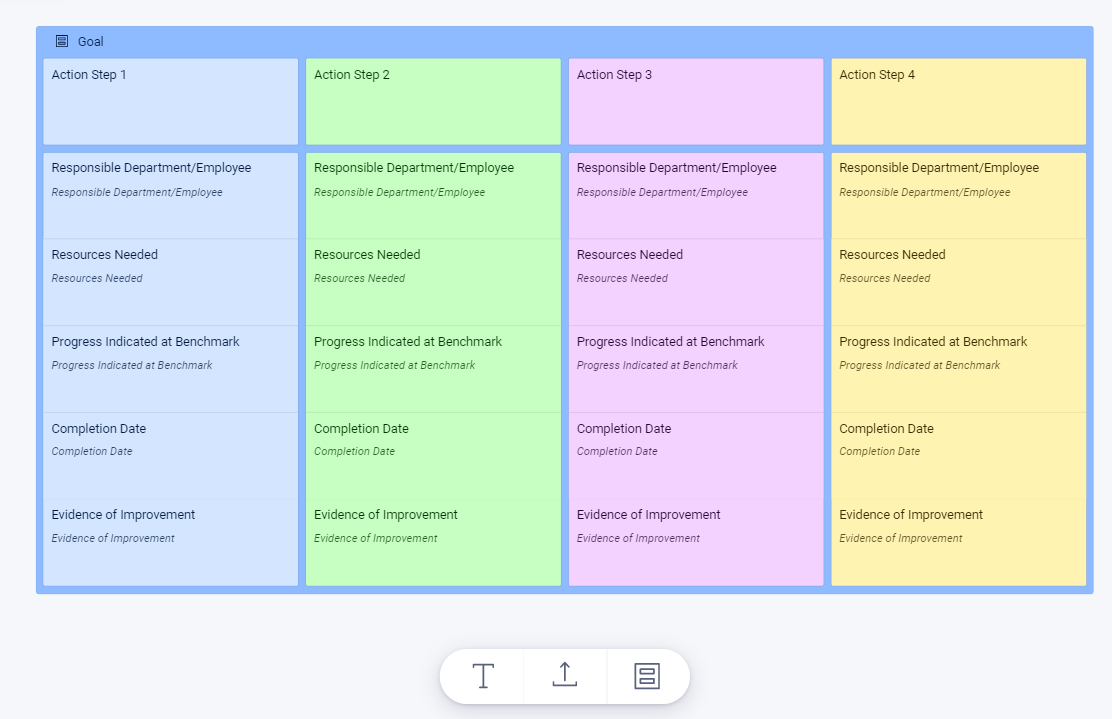 Make sure your action plan consists of not only tasks but also includes resources and assignees' names. Also, add time estimates and expected outputs for each step. This will allow you to assess ongoing progress and see when you fall behind the schedule.
And make it easy on planning. Don't invest too much time in the action plan building and use tools that can help. Here's how you can create the action plan with Weje – in 6 steps and with less than 6 minutes:
Sign up with email, log in, and navigate to the user dashboard
Click "+" to create a blank whiteboard or pick up a template, e.g. "Workflow"

If you started with a blank canvas, create a card and name it as to your goal. Then – create distinct cards for every step and place them in order on your online board. If you started with a template, edit it, accordingly.
When the plan's layout is ready, start filling it in. You can create more cards for notes and correspond them to respective steps through dragging and dropping. Or – you can write down ideas using online sticky notes or mind map maker.
If you need visuals, e.g. icons or pictures, upload them on your whiteboards or copy and paste from the Internet
After your action plan is ready, you can download it and print, or email it to somebody for discussing or reviewing. If you have collaborators, share the board with them so that the team can contribute to the plan.