Whichever tool you may think about, it is almost 100% likely that you can find its close counterpart in the form of a downloadable app, software, or – some in-browser mean. Painters, engineers, designers, musicians – hardly anyone continues to work with pen & paper nowadays. The majority flashes towards digital instruments, and – here's why:
computers process tasks thousands of times faster than humans
unlike people, the algorithm can't be wrong, got tired or ill
routine tasks automation releases more time for creativity
as far as the world is swept by "remote" and "agile" waves, with 62% of employees working out of office at least occasionally, tools' versatility rises to the vanguard.
Along with production programs, like Adobe Apps or Spreadsheets from Google, a distinct segment of collaborative software has appeared. These are time-tracking, planning, scheduling, and project management programs – all that on which companies like Atlassian make billions of profits per year.
A well-defined niche here is multi-purpose virtual whiteboards that, in general, assist in visioning and scoping. Not only can these engage remote teammates in outlining – they boost blueprinting through built-in widgets and sharing options. If one gets tired from PowerPoint, negotiating through emails, or Paint – here's our TOP to look for the ever-best virtual whiteboard.
10 best online whiteboards
This is an online whiteboard tool that can be applied in pretty any case – from school lessons to corporate strategic sessions. Following the signup, a blank new canvas appears. Start drawing by yourself or, so as not to waste time and reinvent the wheel – just pick up patterns from endless pre-designed templates:
weekly planners
empathy maps
Buyer persona's building, etc.
Another prominent option is voting. Instead of liking messages in chats or deciding on a subject during voice calls, bring a little creativity in the routine – find out who's For and who's Against with playful visuals.
Copy and paste entire documents, presentations, and tables, or – their particular pages. Consequently, all co-workers can reach related parts and edit them at any time. Reviewers can effortlessly leave text comments right behind data items, and others can agree or disagree through replying with reactions, likes or dislikes, to pieces of advice.
And – the cherry on the cake – one can even import a physical whiteboard into this digital workspace from Microsoft! Use a phone camera to capture the object and upload the snapshot on canvas. The feature will be cherished by students or meeting attendees, for sure.
Microsoft 365 licenses aren't cheap, however, the comfort may be worth it. Private users can start with $69.99 per year, while companies will have to fork out for at least $5 per user per month.
This is, probably, the best whiteboard App. It's design is close to the physical analog – white canvas, bright "paper" stickers, and colored markers. Miro's advantage is purity. Creators did their best to make interaction as natural as it can be. Remote teams can utilize the program for:
workshops and meetings
strategic planning
mapping, ideation, and brainstorming
workflows development, and others.
Use a program to control several processes at once. Scope your daily or weekly routine within a single workspace and quickly switch between multiple jobs, if the need arises.
Individuals will find Miro helpful, as well. Instead of keeping scattered napkin-written notes in pockets – the next time you need to sketch something, just open an online whiteboard and pin a digital sticker. Thus, all information will always be at hand.
Good news – if the basic functionality is enough, you can use the program for free. Big teams may necessitate purchasing a subscription plan starting from $8 – per one member per month.
For ones struggling for an offhand virtual whiteboard free of charge, Weje will stand on top of the mind. The app can be used for private, educational, or corporate purposes. Sign up and get started to work out ideas immediately. Create a new whiteboard and invite collaborators to join. Attach whatever necessary for joint creation – documents, videos, images, etc. Organize scattered pieces into meaningful and collapsible data-cards – simply drag over objects to one another.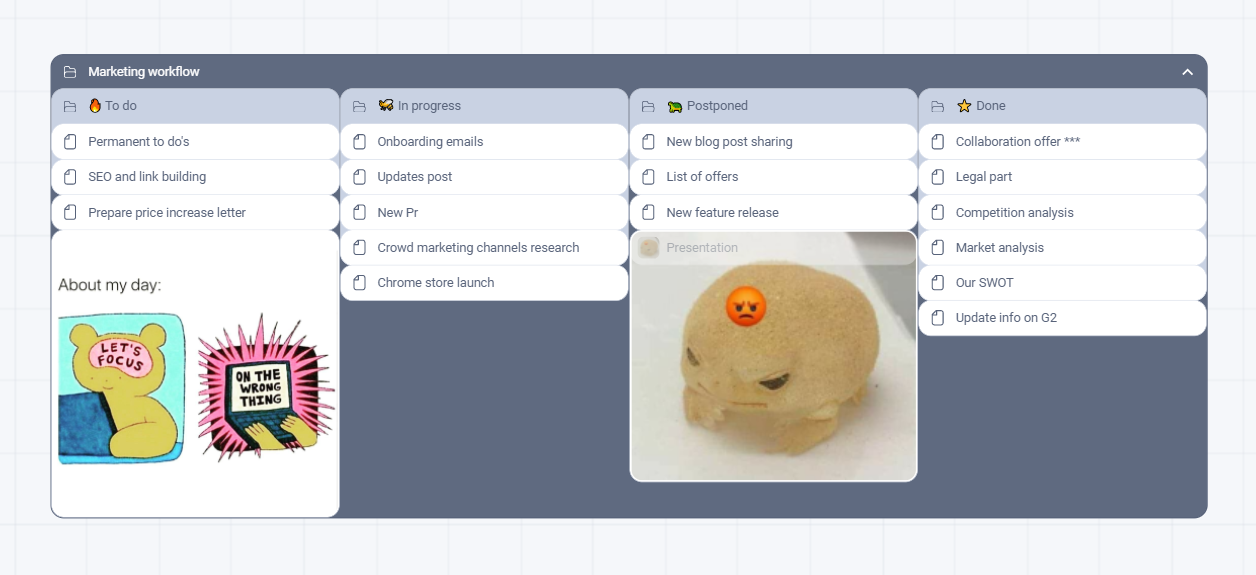 Weje has pretty all built-in widgets a team needs:
Kanban boards
lists & checklists
conferencing & calling option
named cursors and comments.
After the work is completed, one can download the output in various formats or share links with both in-house and external parties.
Two collaborators, three whiteboards, and 100 MB for file storage – one can enjoy this particular combo at no cost. Still, for extended options, royalties of $4 or $7 per user are required every month.
An online shared whiteboard to run various collective events or manage projects. Instead of scheduling your next daily stand-up meeting in Zoom or Skype, sign up at Stormboard and start preparing smartly. Think of agenda and pin notes so that participants will keep these in front of their eyes. Or – ask peers to quickly report on their progress and discuss deadlines to "synchronize watches".
Stormboard can be used for any planning purposes, for example, to compile a BCG matrix or perform a SWOT analysis.
Don't waste time bringing all information to a single format – attach it to the SWOT table just as it is. Search for templates in various categories, for example, "Problem-solving", "Sales management", or "Action Brainstorming", and pick ones that best serve the goal. You can also choose to create MS Word documents, Excel tables, or PowerPoint presentations – directly within the Stormboard's online environment.
Personal accounts are free, while "Business" and "Enterprise" will take $10 and $16.67 – for every member per month.
The program is being positioned as an all-in-one whiteboard. Indeed, Ayoa has many pre-designed templates that are commonly used in commercial practice:
product roadmaps
gaps' mapping
PEST(LE) analysis
SWOT
BCG, and others.
These make the software perfect for supervising remote brainstorming sessions. Participants can add evidence by attaching files, images, documents, and not only. Individual ideas can be grouped in mind maps and further spread within the entire organization. Or – be transformed into tasks. Not to miss something important, one may organize specific tasks into lists – "Now", "Next", and "Soon", and add priority to them. Chatting and video-meeting options are available, as well.
Ayoa's price range varies, depending on the number of users. A very modest option can be accessed for free, while intensified alternatives start at around $8 per month.

Limnu
Of everything suggested in the article, Limnu is what most resembles a painting tool. It's perfect for ones whose main working device is a tablet. Open the drawing board and invite teammates to the video room – to discuss ideas while painting. Rearrange things simultaneously. Thanks to the named cursors, you'll see who's editing – at any given time.
People who have used to draw a lot in Paint in childhood will be touched by the habitual erasers, pencils, and pouring tools. After you've assembled something, use Limnu to present it right away. The tool will beсome indispensable if you film "sketchy-looking" video tutorials, as well.
Program's developers are proud of small details:
smooth drawing
no edge boundaries
countless boards
an iOS App, and more.
Professionals can purchase monthly licenses for either $5 or $8 – for every active team member. If you plan to use Limu singly, then enjoy it for $0.
The name speaks for itself – if you need a conceptualization tool, this collaborative whiteboard will match utterly. The canvas is infinitive, which means the only limits for creativity are imagination and time. Conceptboard is fully packed with aiding instruments:
importing options
signed cursors for editors
changes history and version control
sharing, access rights, and permissions managing
adaptivity on both desktop and mobile.
Big corporations will appreciate the opportunity to request placement on a distinct server – to extra-secure sensitive information. For companies that bother about self-branding, Conceptboard offers customization of subdomain links, logos, and colors.
Regarding pricing: Premium and Business plans cost $6 and $9.5 per month. As a private person, one can access the program for completely free.
This is a digital whiteboard with a very nice-looking design, indeed. MURAL proposes more than 200 templates that are grouped within 9 self-explanatory categories:
Reflect – meeting notes, summaries, libraries, vision boards
Agile – Kanbans, project retrospective, product discovery, and Scrum framework
Brainstorm – mind maps, silent circuit, SIPOCs, and prioritization matrix
Learn – user interviews, study guides, and scenarios
Icebreaker – show & tell, project kick-off, bookshelf, and obstacle run
Understand – flowcharts, Buyer persona profiles, empathy maps, and value streams
Evaluate – risk walls, decision sprint, prototype, and SWOT
Design – sitemap, AWS diagram, brand design brainstorm, and storyboards
Plan – team canvas, operations dashboards, PRDs, and weekly planner.
Choose the one that fits the team goal – and go ahead! There's no free option for MURAL – the cheapest subscription will cost $12 per member per month.
This is a useful program for ones who need some in-browser drawing tools. Ziteboard is optimized for every device and is good-looking on pretty much any web browser. Developers have foreseen users' desires and equipped the tool with embedding opportunities. Thanks to a simple JSON-based API, you can insert created objects on your website, or wherever else is needed.
Another benefit is anonymous access. If you assume external users may not have an active account within Ziteboard or don't want to be noticed, share the anonymous whiteboard link with them. The tool is also suitable for students, as far as it has a convenient graph plotter add-on and the option to export in PDF.
A personal account will cost as little as nothing. With an annual subscription for $85, you get few extras, such as backup export, audio and video chats, and others.
You can start drawing instantly – even without registering the account. Just click to create a whiteboard or enter an ID to access existing ones. The UI may seem a little outdated as if it came from the 2000s. Nevertheless, this has its flavor, agree.
To distribute a canvas with colleagues, copy and share the link with them. Whiteboard Fox is convenient to use on a tablet and paint with a stick. Generally, this is just a regular free drawing board. For little money, $7 or $15 per month, you can get an enhanced version with no ads and few other perks.
Remember, regardless of the software you choose, online whiteboard collaboration fruitfulness depends on the participants' willingness to work out the maximum. To succeed with the process, simplify everything you can – utilize pre-made templates and built-in features for as much as possible.