Although team meetings may be considered intermediate jobs, as long as employees spend more and more time on conferences and calls, working gatherings become a "building block" of the operational routine. According to Doodle's 2018 study, where they analyzed data over 19 million (!) meetings in the UK, USA, and Germany, workers spend, on average, 180 minutes per week on meetings. And a shred of disappointing evidence is – 120 minutes of these occur completely fruitless. In money equivalent, this inefficiency costs companies over $541 billion – annually.
So, it is not a surprise that a "How to conduct an effective meeting" question has become under consideration – in pretty much all organizations. As mentioned by the 2018 Study's participants, the following checklist can make a meeting more well-run:
clear objectives (72% of respondents)
clear team meeting agenda (67%)
a limited number of attendees (35%)
good visuals (27%).
"A distribution of a meeting's common inefficiencies, according to respondents' opinions"
On our behalf, let us add: whichever the activity is, without preparations, a lookout, and a clear plan, it can't be running smoothly. For those struggling for higher productivity (to say – for all of us), here is our concise guideline for the meeting agenda that does bring the result.
What is a meeting agenda?
When one plans the meeting, he or she must answer the "For what purpose?", "Who?", and "For how long?". In other words, one needs to write down a "To-Do" list for the meeting, a meeting agenda. And – distribute it among attendees beforehand, so everyone has enough time to get acquainted with the meeting plan.
The agenda will allow your team not to miss important issues as the discussion goes and adhere to timing. Its helpfulness lies in that:
everyone keeps in mind the meeting purpose
participants can prepare arguments, facts, or another rationale in advance
attendees can point to a meeting subject – at any point
the moderator can better timetable the discussion
the overall discussion becomes less inflated in time and long-winded.
The problem is – a vast number of attendees (74%) multitask during meetings. Moreover, more than half of the negotiations are a close duplication of what has been said previously. Expectedly, around ⅓ of employees despise meetings and consider them useless. In these circumstances, the agenda becomes a safeguard. If composed thoroughly, it provides an apparent time-saving effect for collective work, regardless of the size of a team, and prevents the following cruxes:
everyone speaks over each other.
attendees answer phone calls & use messengers while someone speaks
colleagues do not listen to one another
there are some not contributing to the discussion
meaningless talks
participants arriving late or leaving too early.
How to write a meeting agenda?
Creating a meeting agenda is not that difficult. Follow our straightforward checklist and you will never screw up.
Define type of a meeting
Is the meeting really required? Not all issues necessitate a discussion, so before doing any preps – make sure that "the onion is worth peeling". Start with the meeting objective. This, in turn, will set the tone for all subsequent stages.
There are six primary types of discussions:
updates on status – daily/weekly/monthly stand-ups or sessions
Their major purpose is – to check out ongoing tasks' signs of progress. This presumes all attendees to report on achievements or setbacks and to decide on further backlog finishing. After the discussion, a team lead can adjust plans, according to the information that he or she has gained from other representatives of other teams.
Brainstorming and other creative-thinking sessions require a distinct approach for planning. With these, an organizer doesn't need to pre-determine TBDs. Instead, he or she has to provide a set of procedures that will allow participants to generate ideas. In particular, to divide people into working groups and decide which technique will work out the best way: reverse discussion, brainwriting, role-play, etc. Here, the agenda arises while the session continues. A moderator shall only lead the process and note findings.
These are undertaken when the team needs to agree on further steps to be done. Decision-making meetings take place at all organizational levels – from the board of directors to "field" workers. These are forward-looking discussions that commonly involve voting. The agenda may cover a few issues, say 2 or 3.
Here, a good agenda is the one with a single problem at a time. The plan must include not only a dilemma itself but also a background. The organizer has to work out a "big picture" and collect facts. For example, if the announced to-be-solved problem is a "1st Q revenue decrease" – the following bunch of essential details may be expected: monthly sales volumes, number of qualified leads for the period, planned & actual KPIs of sales reps, number of closed deals, the average sum per deal, etc.
These may be educational, revealing, instructive, and other data-based briefings. The purpose – to cover news or important data and make participants aware of them. An agenda is accordant: most of the time is devoted to the speaker, with Q&As from listeners after each sub-session. Conference organizers have to prepare printed handouts or flyers and incorporate time for "coffee breaks".
Even though team building is entertainment, its ultimate goal is – better at-work productivity. As such, the agenda shall be based on personal preferences, corporate ethics, skills' development goals, the budget available, and many other aspects.
Think of whom to invite
Deciding on attendees is no less important than on a meeting type. Too many people can turn a meeting into a busy crowd, which is especially unfavourable for problem solving and decision-making. At the same time, the more opinions you acknowledge, especially with regard to intricate affairs, the better the outcome will be. There is a good 8-18-18-1,800 "packing" rule that we suggest one to try:
less than 8 people – if you need to take care of the problem
less than 18 people – for creative-thinking meetings, including brainstorming
less than 18 people – for revealing & data-sharing meetings
no more than 1,800 – for any informative meetings, e.g. presentations or product launches.
But a proper number of attendees – is only half of the deal. One also needs to consider participants' authority, professional expertise, and character traits. By inviting employees who are in an ongoing conflict, prejudiced, or intolerant ones you risk turning the discussion into a battlefield. The working meeting will also be purposeless if the group consists of only conservatives or "yes man".
Define meeting starting time & place
"Is there a best time to conduct a meeting?" – one may ask. The answer is – "Yes, there is". The YouCanBookMe company has analyzed data over 530k meetings and revealed the best-performing time – Tuesday at 2:30 p.m. This seems pretty reasonable – Tuesday is neither as busy as Monday nor too belated for the weekly agenda, as Friday.
Timing matters significantly too. For example, although productivity is higher in the morning, the ante meridiem isn't the best choice to conduct certain meetings, say, brainstorming. Employees start the day by checking Inboxes and finishing remaining affairs. The "a.m." hours are best suited for stand-ups, while creative thinking shall be better transferred to the afternoon.
"Synchronize watches"
When you plan TBDs, you have to keep abreast of the latest performance events. What was "In progress" as of yesterday may occur "Done" as of today's morning. Before putting the task up for discussion, refer to Kanbans or JIRA, or request an update on its status from colleagues. A good idea is to delve into for a bit and note ins and outs:
Who's the current assignee?
What was the last time for a status update?
Are there any linked tasks and what's their progress? etc.
Collect inputs & evidence from colleagues
This recommendation relates to problem-solving meetings. To resolve the issue, you need to work out solutions – not to clarify the details. Everything shall be pointed out beforehand. There are multiple ways of how to probe the information:
emails & Slack & small talks
Google package – Documents, Forms, Spreadsheet
survey tools – SurveyMonkey, Typeform, SoGoSurvey, and many others.
To keep inputs in place, one can use online whiteboards and link individual records on canvas.
Write down a "to-be-discussed" list
So now as you know the purpose, the list of attendees, and have prepared supportive data, it's time to form the ultimate checklist for a discussion. These formatting tips may help:
write bulleted points – do not use a storytelling style
if possible, put the checklist on a separate flipchart or physical whiteboard, so the agenda will be in front of the eyes of collaboratives
cross-out resolved issues and note outcomes; at the end of a meeting – summarize
after you've formed a "beta-version", look through it and remove "junk"
Distribute assignments
Some meetings require preps from not only the organizer but from attendees as well. For example, in the case of updates or decision-making sessions. If so, announce or publish required homework and deadlines. Suggest on the preferred format – a slide share, a couple of written or verbal sentences, printed cards, or other. If there will be several speakers during the meeting – familiarize them with the presentational equipment. You may have no idea how vital it is – 87% of spokesman claim to experience stress while fixing up tech as the meeting starts.
Estimate meeting duration
According to the "wasting time" statistics, in the case of calling conferences, 8 minutes are wasted just to make it all start, and 13 minutes – to deal with disruptions. So if you prospect a productive time to be 1 hour, the meeting should last 30% longer.
Prepare the presentation & handouts
This is an optional step, however, if you do want to distribute tangible brochures with colleagues – put this activity on your agenda. Remember – it will take some time before all participants receive bulletins and look through them. Also, you need to have a few extra sets – in case some are spoiled or more people will attain the meeting.
Presentations are useful for informational meetings. As so, write down timelines for a slideshow in your plan, so that you know when to switch to the next slide.
Include a Q&A section
Your meeting agenda shall obligatorily entail time for questions from attendees. Again, there are no strict rules regarding the session's duration, but the common benchmark is 15 minutes. Here, a moderator shall announce time limits per question, so that Q&As don't turn to be another discussion. If too many unresolved questions arise, then it'll be better to agree to an additional meeting. Perhaps, with a narrower circle of participants.
Think of how to collect a feedback
Quality feedback is a growth point for you as a meeting organizer. Find time to ask participants about their impressions after the event – either anonymously or in-person. Conclude from their recommendations.
Meeting agenda examples
This is something coming in many forms – there's no conventionalized meeting agenda template or form. Some stick to old-school paper notes, others opt for software. We believe a happy medium is somewhere in-between. Even though modern team collaboration and chatting programs are genuinely high-tech, they still can't substitute an effect from humans' eye-to-eye interaction. But what they do can – significantly facilitate communication. Going back to agenda planning – it's better to shift this to a digital environment, in particular – to online whiteboards.
These are online canvases with helpful built-in widgets: checklists, mind maps, processes' constructors, charts, tables, geometric figures, etc. Instead of emailing about meeting updates and keeping notes in whatever place, create a single workspace and share it with attendees. Link relevant resources and ask questions or print handouts – just from the canvas. Below is a sample meeting agenda that we've designed in the Weje environment.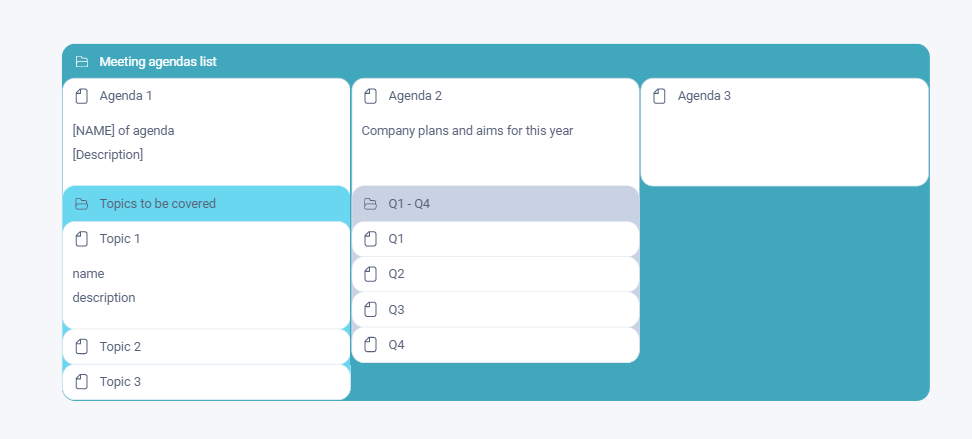 This agenda's outline fits decision-making high-level meetings. However, it may be adopted for pretty much any purpose – from sprint planning to education plan development. The whole session is divided into 5 topical sections, with an approximate time per each. The meeting totals 1 hour:
10 minutes – for opening thoughts
10 minutes – for follow-ups on previous discussions
15 minutes – to discuss main issues (up to 4)
15 minutes – to elaborate on remaining & unresolved questions
10 minutes – to summarize actionable steps.
Each bullet point in the agenda can be linked with related internal or external data if needed. The moderator can use the same canvas to write down ideas & actions – on stages #4 and #5, respectively.
After the meeting, the outcome may be downloaded and printed, or emailed to the team, so that everyone is aware of further steps.
This "protocol" for an agenda will help you to never be caught unprepared. Remember – practice is everything. The best way to organize one fruitful meeting is to organize dozens more earlier.