Webjets is an open collaborative information platform to collect, organize, and share all kinds of content.

It was a great helper for educators, teams, and individuals for years.
In order to enhance the main concept, keep the project dynamic and up-to-date, we decided to modernize and make it more flexible to new technologies and trends. Weje will improve your UX journey with improved canvas, UI, and navigation.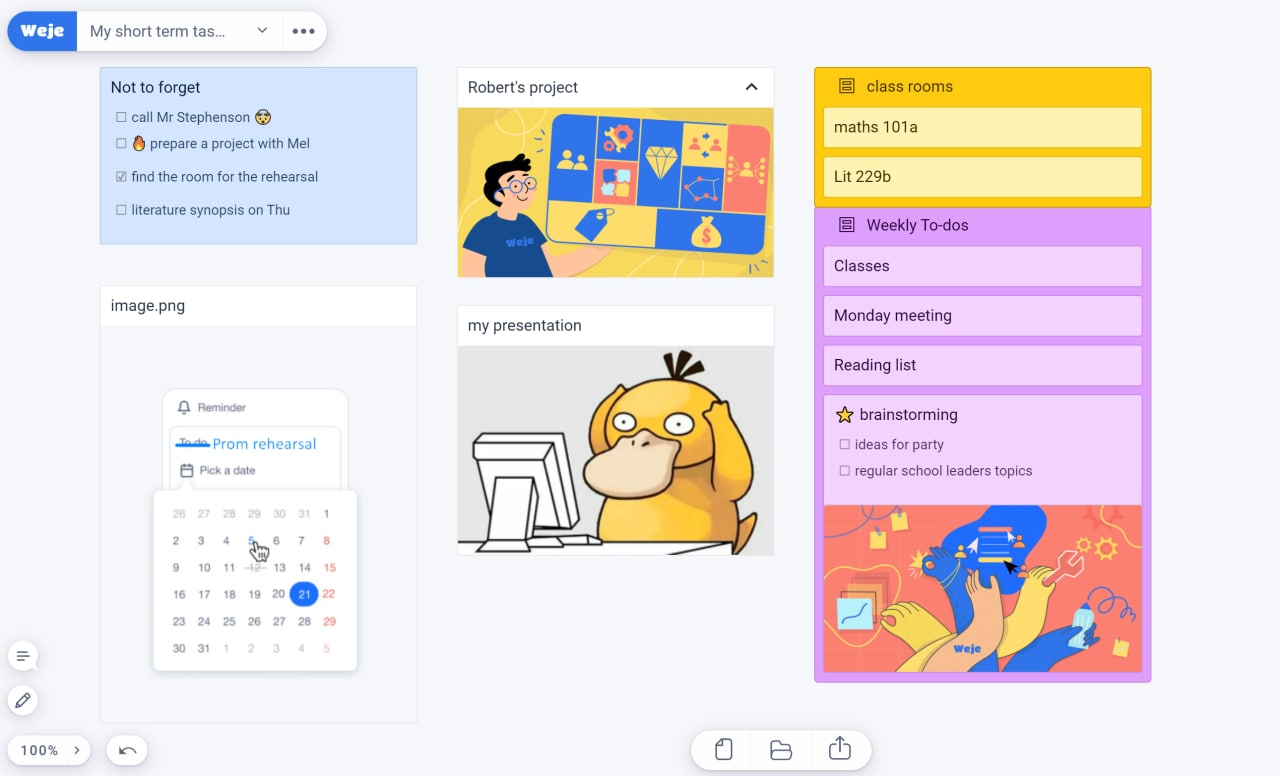 Former Webjets accounts' owners can migrate to Weje and continue enjoying countless canvases for completely free. Weje was developed with versatility on top of mind. It can come in handy for pretty everyone – from student or lecturer to a sales representative or marketing director. Designers and creative thinkers will be able to make full-fledged prototypes and visuals, like mood boards. They can also use Weje to prepare project plans, control tasks' completion, and invite third parties to contribute.
And yet, the same principle applies: users upload documents or media on the digital board and organize and group information with a single drag & drop option. Or they may add data straight from the Internet – via copying and pasting content, images, links to videos, and so on.
Weje supports all common file types, so one won't need to worry about converting them.

Here are what's exactly new in Weje:
Templates
Instead of starting with a blank whiteboard, users can now pick up templates and modify them as needed. Weje has pre-designed matrices and reports that are often required for performing tasks. And we're planning to add even more templates soon. So, if you have some "needs or wants" regarding templates – just contact us. We'll work them out and add to the whiteboard.
Mind mapping tool
With Weje, users can create mind maps intuitively and with no need to make an additional sub-board. All that is needed is to place objects, e.g. notes with ideas, titles, images, and interrelate these with arrows.
Actions tracking
While some teammates edit documents, add or move objects across the canvas, other active participants can watch their actions thanks to a named mouse cursors function. This allows you to stay tuned to the work of other contributors.

On-screen drawing and quick chat
You can use a drawing tool – to quickly highlight something for 15 seconds and capture the attention of other team collaborators.
Or you can leave a short message for teammates by opening an instant "Chat".
On top of these, Weje's upcoming updates include:
the new color scheme for data cards
public sharing of boards
Lifetime Deals on SaaS MANTRA and Kickstarter.
We wrote our plan earlier and keep going on it. You can learn the plan of Weje update.
In case, you haven't watched our 1st version video. Now we had a great update on cards and lists and will do a new one for you soon.
Whether you're a former Webjets user or new to digital whiteboards, you'll be able to adopt Weje boards to any kind of task. Not only will it boost team performance – you can use the tool as a solo player, as well. For example, to plan daily affairs or upcoming events, like trips. Online whiteboards are kept in the cloud, so you may access them from any place and device immediately.